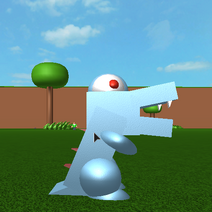 Description
Edit
Totodile is a small crocodile pokemon with a very large jaw that will snap at anything that comes near it. It also has a small tail at the end of its body as well as tiny red spikes along its back.
Totodile cannot be found in the wild. It is only obtainable at the start.
It starts off with Scratch.
Lvl. 7- Bubble
Lvl. 28-bubblebeam
Lvl. 50-Surf
Type Weaknesses/Strengths
Edit
WEAKNESSES
STRENGTHS
Evolution
Edit
It evolves into Croconaw at level 18.
It evolves into Feraligatr at level 36.
Ad blocker interference detected!
Wikia is a free-to-use site that makes money from advertising. We have a modified experience for viewers using ad blockers

Wikia is not accessible if you've made further modifications. Remove the custom ad blocker rule(s) and the page will load as expected.