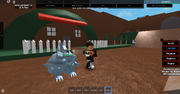 Rhyhorn is a rhinoceros-like creature with a body covered in gray, rocky plates. Its underside and rear are smooth, and it has four short legs with two claws on each foot. It has a triangular head with narrow, red eyes, two fangs protruding from its upper jaw, and small, triangular openings on the upper sides.
Rhyhorn is a rock and ground type Pokemon.
Damaged


normally by:

Bug | Ghost | Physic | Dragon | Dark | Fairy
| | |
| --- | --- |
| Weak to: | Fighting | Ground | Steel | Water | Grass | Ice |
| | |
| --- | --- |
| Resistant to: | Normal | Flying | Poison | Rock | Fire | |
Rock Throw- Starter move Edit
Tackle- Starter move Edit
Location
Edit
Rhyhorn can be found in the cave after you beat the first gym.
Evolution
Edit
Rhyhorn evolves into Rhydon at level 42
Ad blocker interference detected!
Wikia is a free-to-use site that makes money from advertising. We have a modified experience for viewers using ad blockers

Wikia is not accessible if you've made further modifications. Remove the custom ad blocker rule(s) and the page will load as expected.