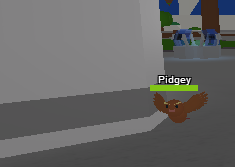 Description
Edit
Pidgey resembles a small, plump-bodied avian Pokémon. Pidgey is primarily brown with a lighter throat and belly. Both its feet and beak are a pinkish-gray color. It has black markings around its eyes and a small crest of brown and cream feathers above its eyes.
Can be found on the first forest.
Start-Tackle learns Gust at lvl 15
Evolution
Edit
Pidgey evolves into Pidgeotto at level 18.
Type Weaknesses/Strengths
Edit
WEAKNESSES
Ice Types
Electric Types
Rock Types
STRENGTHS
Bug Types
Grass Types
Fighting Types
Ad blocker interference detected!
Wikia is a free-to-use site that makes money from advertising. We have a modified experience for viewers using ad blockers

Wikia is not accessible if you've made further modifications. Remove the custom ad blocker rule(s) and the page will load as expected.