Description
Edit
Pidgeot is a large, avian Pokémon. Its glossy plumage is brown with a cream underbelly. On its head, there is a red and yellow crest that is nearly as long as its body. Its fan-like tail feathers are red. Its beak and legs are pink, and it has black markings around its eyes.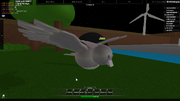 Cannot be found in the wild.
Evolved- Tackle , Gust, Quick Attack
Weaknesses/Strengths
Edit
WEAKNESSES
Electric types
Ice types
Rock types
STRENGTHS
Bug Types
Fighting Types
Grass Types
Ad blocker interference detected!
Wikia is a free-to-use site that makes money from advertising. We have a modified experience for viewers using ad blockers

Wikia is not accessible if you've made further modifications. Remove the custom ad blocker rule(s) and the page will load as expected.