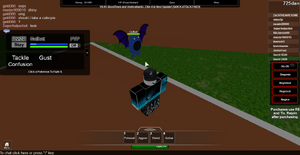 Description
Edit
Golbat is a large, blue bat-like Pokémon with purple wing membranes. It has small eyes with slit pupils and a massive mouth containing four fangs.
Can be found in the second cave after the 3rd Gym at Level 27 and at the volcano.
Evolved/Caught- Tackle, Confusion, Gust,Loses Leach life
Level 40- Absorb
Level 44- Psychic
Evolution
Edit
Previous evolution form is Zubat. Next evolution form is
Crobat
at Level 45.