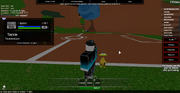 Description
Edit
Elekid is a yellow, round-bodied Pokemon with black stripes. Elekid's arms are bulky in proportion to its body, and it has three claws instead of fingers.
Appears Level 25 at the Construction Site .
Caught- Tackle, Thundershock
Level 28- Thunderbolt
Evolution
Edit
Elekid evolves into Electabuzz at level 28.
Ad blocker interference detected!
Wikia is a free-to-use site that makes money from advertising. We have a modified experience for viewers using ad blockers

Wikia is not accessible if you've made further modifications. Remove the custom ad blocker rule(s) and the page will load as expected.