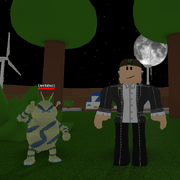 Description
Edit
Electabuzz is a slightly humanoid creature with some feline traits. It is covered in yellow fur with black stripes; a large stripe on its chest is shaped like a lightning bolt.
Electabuzz himself can't be caught, but his previous stage (Elekid) can be caught behind the 6th gym (Sparkgrove City), at the Construction site. They usually spawn on top of the cranes, but they can be found all over the place, albeit uncommonly.
On Evolution - Tackle, Thunder bolt,Thunder shock
Lvl 50: Thunder
Lvl 65: iron tail
Evolutions
Edit
Pre-evolution is Elekid (evolves at level 30). It's proper evolution should be Electivire, but it cannot in this game due to Electivire being a gym exclusive pokemon.
Strengths/Weaknesses
Edit
Strenghts:
- Flying
- Water
Weaknesses:
- Rock
- Ground