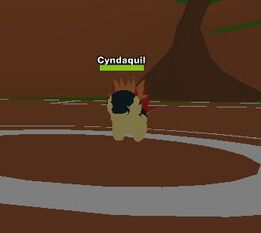 Description
Edit
Cyndaquil is a fire-type Pokemon. Cyndaquil is a small, bipedal Pokemon with redish fur on top of its body, and a tan color on the underside.
It can not be found in the wild. It is a starter Pokemon from the very beginning.
It starts off with Tackle.
Ember- 7
Flamethrower-28
Level 36-No tackle
Level 50-Fire blast
It evolves at Level 18 into a Quilava
It evolves at Level 36 into a Typhlosion.
Type Weaknesses/Strengths
Edit
WEAKNESSES
Rock Types
Ground Type xd
Water Types this sucks
STRENGTHS
Grass Types
Bug Types
Ice Types
Steel Types