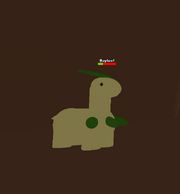 Description
Edit
Bayleef is a Grass Type. Bayleef resembles a pale yellow sauropod dinosaur or a lizard. A large leaf shaped like a scythe protrudes from its head.
Can not be found in the wild.
Evolved-loses Absorb
Level 28- Magical Leaf
Type Weaknesses/Strengths
Edit
WEAKNESSES
Bug Types
Ice Types
Fire Types
Poison Types
Flying Types
STRENGTHS
Ground Types
Rock Types
Water Types
Evolution
Edit
Previous evolution is Chikorita. Next evolution form is Meganium. It evolves at level 30.